I am honored to announce my first museum solo exhibition!
It will be held at the Morris Museum in Morristown, New Jersey, September 17 to December 3rd, 2017.
There will be an opening reception and an artist talk on September 17 from 11am to 3pm.
Please come say hello if you are in the area!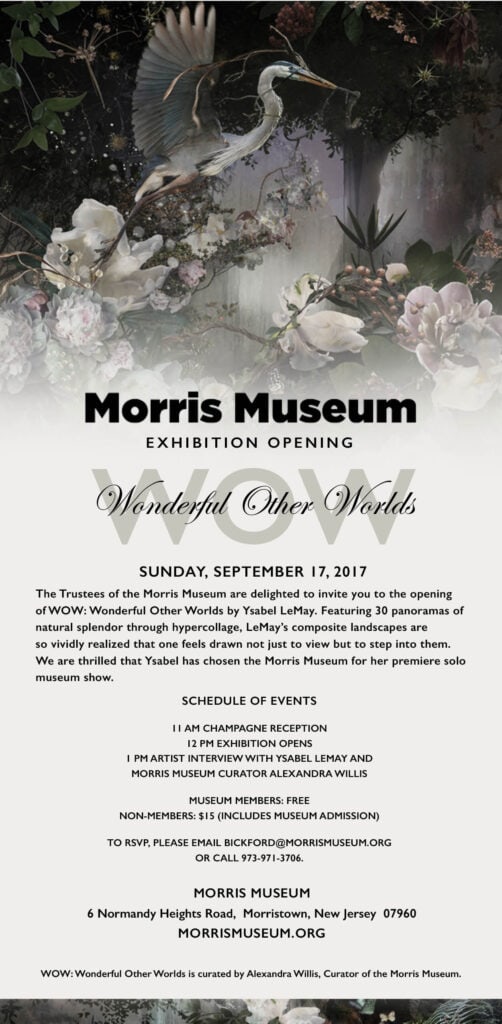 Morris Museum Exhibition Opening
WOW: Wonderful Other Worlds
Sunday, September 17, 2017
The Trustees of the Morris Museum are delighted to invite you to the opening of WOW: Wonderful Other Worlds by Ysabel LeMay. Featuring 30 panoramas of natural splendor through hypercollage, LeMay's composite landscapes are
so vividly realized that one feels drawn not just to view but to step into them. We are thrilled that Ysabel has chosen the Morris Museum for her premiere solo museum show.
Schedule of Events
11 AM Champagne Reception
12 PM Exhibiton Opens
1 PM Artist Interview with Ysabel LeMay and Morris Museum Curator Alexandra Willis
Museum Members: Free
Non-Members: $15 (includes Museum admission)
To RSVP, please email Bickford@MorrisMuseum.org
or call 973-971-3706.
Morris Museum
6 Normandy Heights Road, Morristown, New Jersey 07960
MorrisMuseum.org
WOW: Wonderful Other Worlds is curated by Alexandra Willis, Curator of the Morris Museum.