FOR IMMEDIATE RELEASE
Exhibition Devoted to Hypercollage Artist
Ysabel LeMay Opens at the Morris Museum
on September 17, 2017
[column-half-1]
(Morristown, NJ, September 5, 2017) –This month, the first solo exhibition of global sensation Ysabel LeMay will open at the Morris Museum. Featuring 34 panoramas, WOW: Wonderful Other Worlds will be on view from September 17 to December 3, 2017. It will highlight the technological skills and organic arrangements of this amazing photographer and collage artist.
Ysabel LeMay digitally composes panoramas of natural splendor so vividly realized that one feels drawn to step into them. While the technique is high-tech, her hypercollage process is instinctual and organic, allowing each piece to dictate its own destiny.
Raised in Quebec, Canada and now working out of Austin, Texas, Ysabel LeMay began her career in the arts with graphic design and art direction at her own advertising agency. After eight years exploring painting, she finally found her voice through photography and hypercollage. LeMay won the New York 2011 KiptonART Rising Star, exhibited in the 2013 Texas Biennial at Blue Star Contemporary Art Museum, and represented Texas at Women to Watch at the National Museum of Women in the Arts. Her work, which has found its way into over 100 exhibitions, invites the viewer to imagine another world through adept weavings of both the magnificence as well as the desiccation of the natural world.
WOW: Wonderful Other Worlds showcases works that morph reality and fantasy before our very eyes through the discerning eye and indestructible patience of LeMay. Drawing on her observation and reflection of plants, animals, and the organic matter around her; each piece is composed of a constellation of individual photographs. These fragments are then digitally woven together in Photoshop to create a patchwork that often transforms the static into the vibrantly flowing. The authenticity of her methods shines through in her final product – a graceful display of the pursuit to honor not only nature's initial splendor and command, but even more so the innate mindfulness it presents. WOW: Wonderful Other Worlds is being curated by Alexandra Willis, Curator of the Morris Museum.
Related Event
Prior to the opening of WOW: Wonderful Other Worlds, the Morris Museum Gala: A Floral Affair – will be held on Saturday, September 16, 2017 at 6:00PM. This festive event will honor Ruth Hennessy, beloved Museum Board Member for over 30 years and champion of the arts, education, philanthropy and family. It will also offer guests a preview of the exhibition opening the next day. Further information is available by calling 973. 971.3722 or online at morrismuseum.org/special-events/
Exhibition Opening
Sunday, September 17, 2017, 12:00PM
The exhibition opens to the public at 12:00PM, followed by a special interview at 1:00PM between Morris Museum Curator Alexandra Willis and artist Ysabel LeMay in the Morris Museum's Bickford Theatre. This event is free for Museum members and $15 for non-members (includes Museum admission).
Members can RSVP and non-members can purchase tickets, by visiting morrismuseum.org/future-exhibitions/or calling 973.971.3706.
To become a Member, and attend this special opening, and visit the museum year-round for free visit morrismuseum.org/museum-membership, email membership@morrismuseum.org, or call 973.971.3721.
[/column-half-1]
[column-half-2]
About the Morris Museum
Founded in 1913, the Morris Museum is an award-winning, community-based arts and cultural institution which serves the public through high-caliber exhibitions in the arts, sciences and humanities.  The Museum also offers educational programs, family events, and is home to the Bickford Theatre and its wide range of performing arts offerings. Continuously serving the public since 1913, the Morris Museum has been designated a Major Arts Institution and has received the New Jersey State Council on the Arts' Citation of Excellence, among other awards. The first museum in New Jersey to be accredited, the Morris Museum was re-accredited in 2013 by the American Alliance of Museums.
The Morris Museum is a Blue Star Museum, offering free admission to active duty military personnel and their families, from Memorial Day to Labor Day.
Location and Hours
The Museum is located at 6 Normandy Heights Road (at the corner of Columbia Turnpike) in Morristown, NJ, and is open Tuesday, Wednesday, Thursday, Friday and Saturday, 11:00am to 5:00pm and Sunday, 12:00 to 5:00pm. In addition, the Museum is open evenings from 5:00 to 8:00pm on the second and third Thursday of the month. Admission to the Museum is $10 for adults and $7 for children, students and senior citizens. Admission is always free for Museum members. For more information, call (973) 971-3700, or visit www.morrismuseum.org.
Contact:
Amiet Goldman
Morris Museum
973.971.3728
agoldman@morrismuseum.org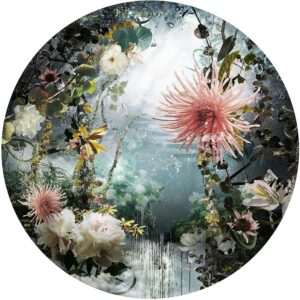 Image: Archeus, Ysabel LeMay, Hypercollage, 2015.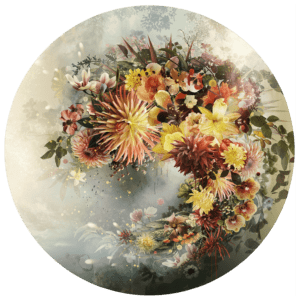 Image: Cosmea, Ysabel LeMay, Hypercollage, 2016.
Photo: Ysabel LeMay, courtesy of the artist.
[/column-half-2]